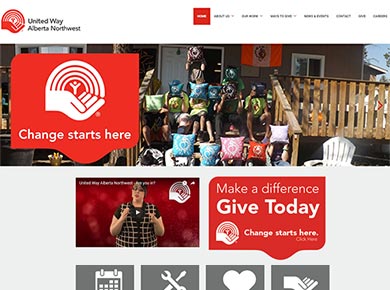 For more information on how you can help the United Way Alberta Northwest visit their website: unitedwayabnw.org
United Way Alberta Northwest Website
It is always a great feeling to support our local charities. After many years with an older website, in 2015 we sponsored a website for the United Way Alberta Northwest. This group is an exceptional support to many local groups. There is always some way the United Way has touched each person in the community in some way. Their 3 investment areas touch on many vital parts of a thriving community.
We gave them their own custom donation gateway to allow for more funds allocated to our local area and more control on how their information is displayed and found. As well as an added Board of Directors login portal for the directors to keep in contact remotely together.
Keeping to the branding colors we decided to add pops of color thoughtout the website and with the help of local companies they developed some great content and videos for their cause.